ONLY 3 SPOTS AVAILABLE TODAY! ORDER YOUR MASTERPIECE!
Guaranteed to Bring Tears of Joy
Refresh your memories and relive them again; give free rein to your emotions. We guarantee that no one will remain indifferent looking at this masterpiece.
Give Your Old Photos a Second Life
Old photos should not gather dust! Your memories should live on! Revive your old photos and surprise yourself and your loved ones with a wonderful gift.
One-of-a-Kind Portrait
Gift a special and unique memory! Our artists will create a real, patriotic, one-of-a-kind art piece made from your old photograph – it will become a focal point in your home. Exhibit your best memories in a unique way.
1
Upload your photo of any quality, choose your preferred size, and place an order.
2
We will restore your photo and apply the corresponding custom effect.
3
Once your artwork is completed, we will send it to you for approval; only after you are satisfied will we print and ship it to you.
4
Enjoy your new painting, or if it is a gift for someone, enjoy seeing the happiness in their eyes.
Choose Us & Support Veterans
Choose Us & Support Veterans
Our products are created with great love and respect for veterans. Our team consists of veterans, their spouses, and children. We are confident that our US-based, veteran-owned business will make a difference for our veterans and their families.
Each of our paintings is created with love for veterans. It is unique, like every veteran's story. We aim to ensure that all our veterans are supported, recognized, and feel loved and respected by all.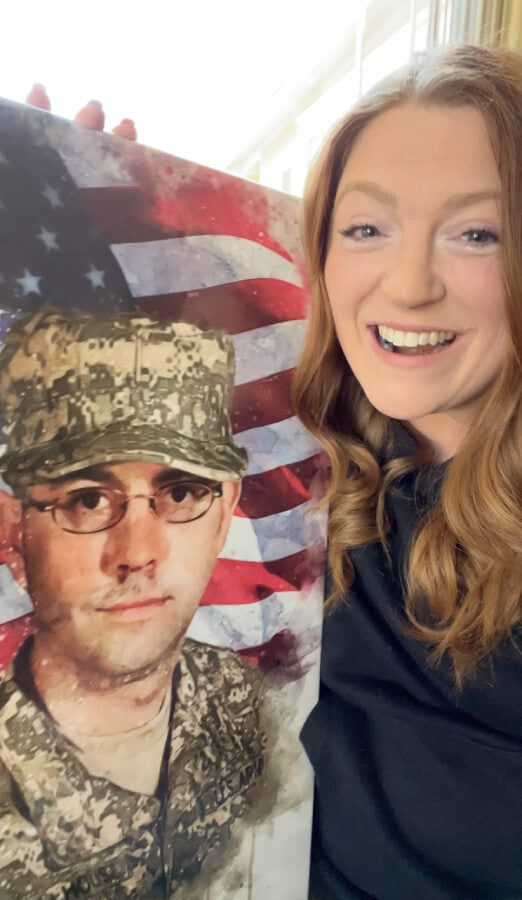 My favourite vet was impressed❤️
As a gift for my husband! The quality of the artwork is just outstanding, didn't expect that and it looks great in our living room!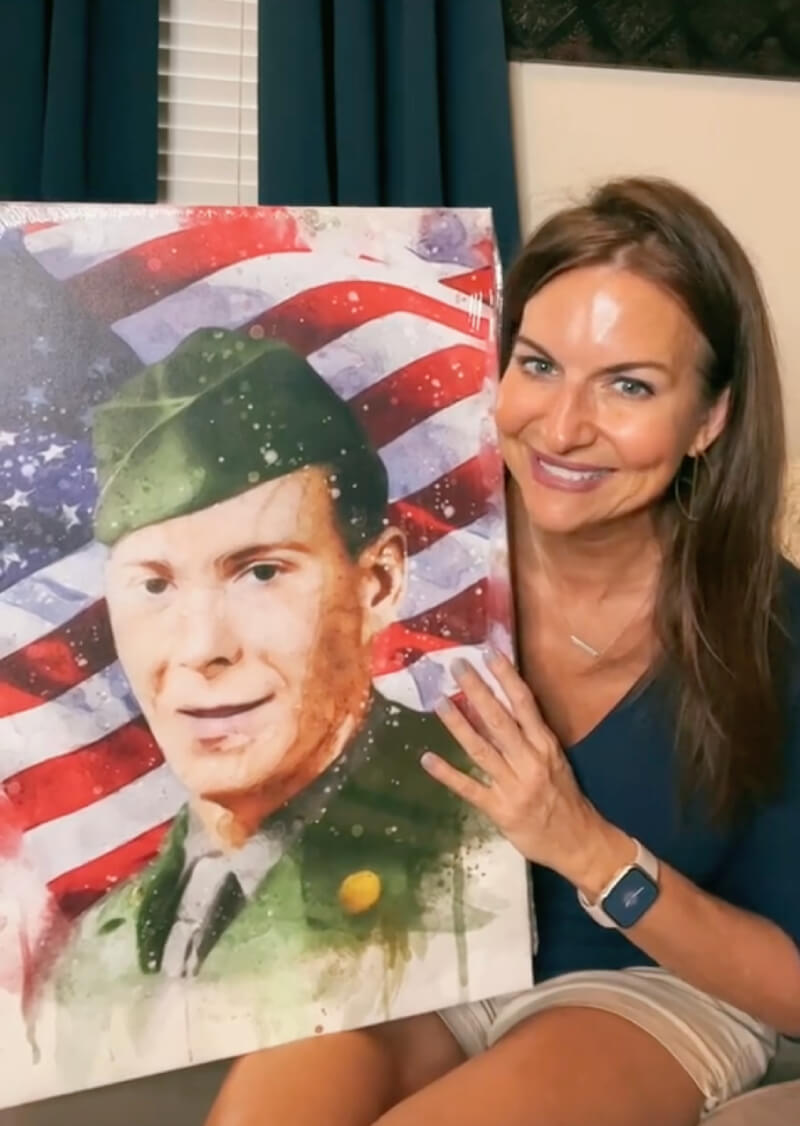 Outstanding restoration
I used this in my Army room and I love it. Not as big as I was expecting, but that's ok. Will order bigger one the next time, still have a lot of old pictures to restore for you guys
Freddie B.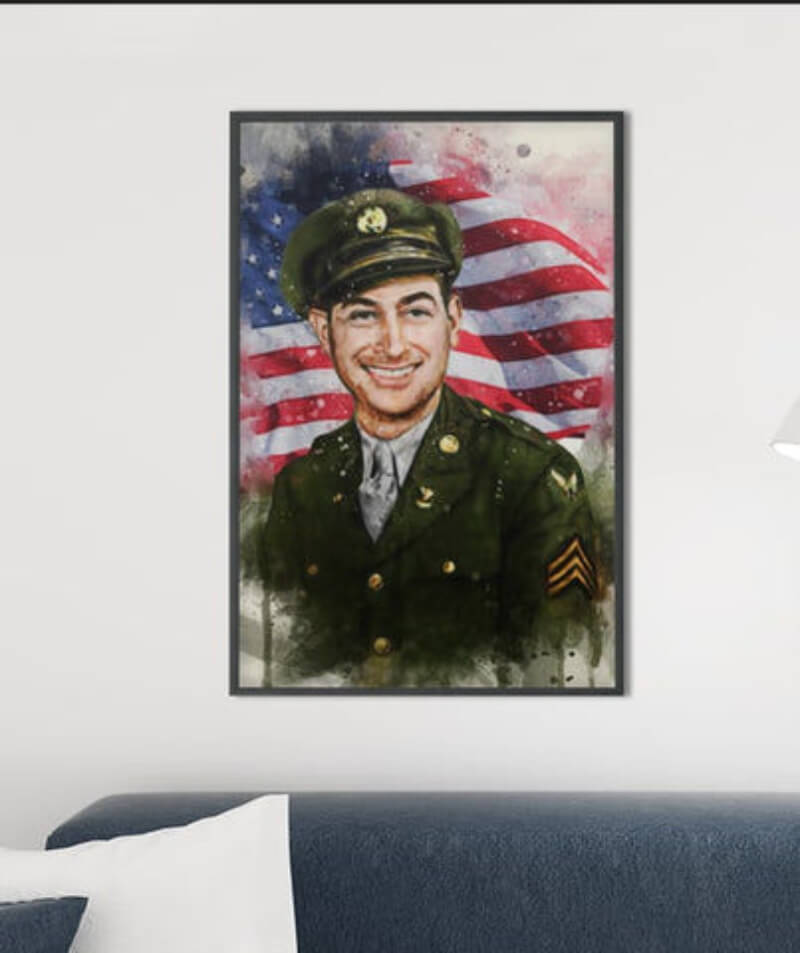 In memory of my fallen comrades!
Perfect for my man cave! Keeps me in check of knowing what my brothers sacrificed and never returned home.
Proud to be an American and it fills the gap in my life for sacrifices that were made.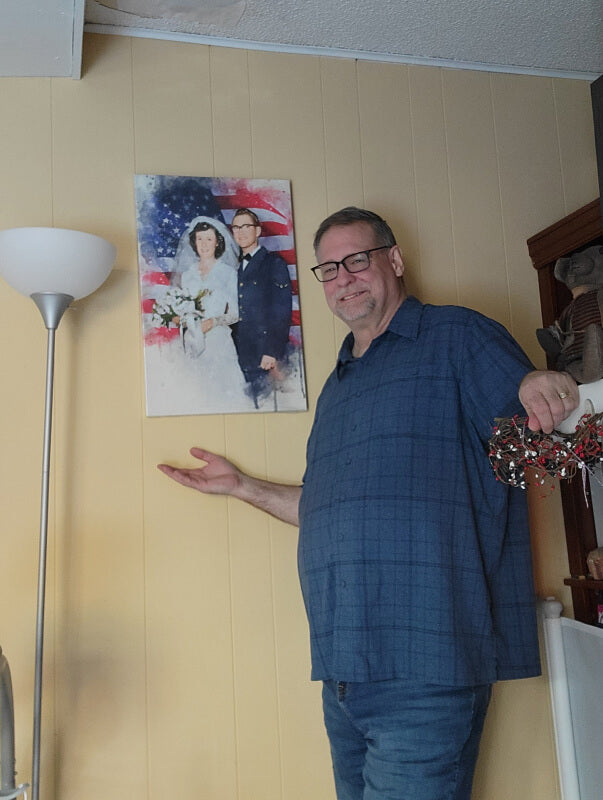 My old picture is new now!
This is such an amazing product that you can take an old picture and put it right on the flag. The canvas is just incredible and such a wonderful gift.
Dealing with the website was so easy and we were made to feel very special. We would order from them again without hesitation.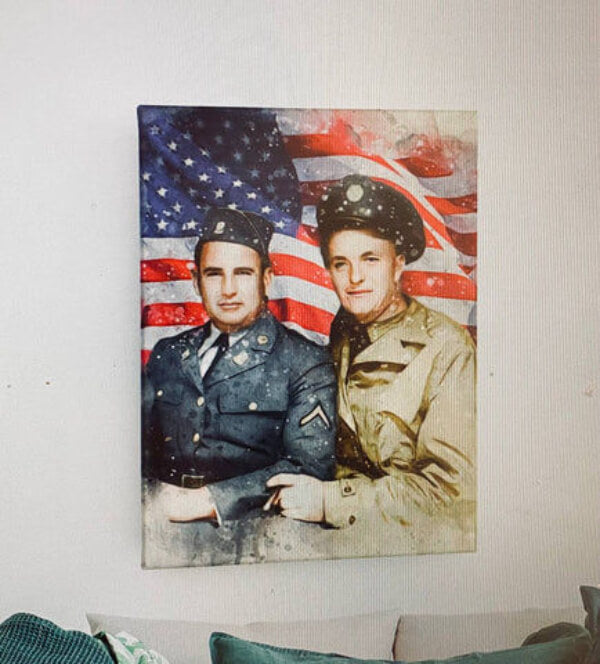 My father-veteran was delighter...
I purchased this for my veteran-dad for Father's Day. I thought it might be a bit cheezy because of the great price, but I was wrong! It is the perfect size is made from beautiful material. The colors are amazing!
He has it hung proudly on the wall. He even shared a picture of it on social media for his friends/fellow veterans to see. I would highly recommend it.
It really made his day!
Thank you.

Perfect for Army home
High quality. Perfect canvas to display at an Army veteran's home.
Frequently Asked Questions